Mulch Delivery to Glen Mills, PA 100% Organic – 100% Natural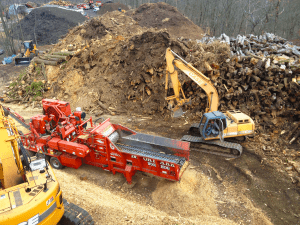 Mulch Works is a family owned, family operated outfit. We operate out of Aston Township Pa., We Deliver Mulch, Top Soil, Sand, and Stone to Glen Mills PA, and the surrounding areas. We take pride in the fact that all of our mulch is 100% natural and made right here on our premises.
We offer a variety of different types of triple shredded mulch including, Organic, Midnight Black, Cherry Brown, Bark, and Playground Mulch. Also, we produce our own top soil containing the richest nutrients and leaf compost.
To further serve both our business and residential community, we supply crushed stone, sand, and river jack. And, for our customers' convenience, we offer both pick up, and prompt delivery services to all of Glen Mills PA.
Our Manufacturing Process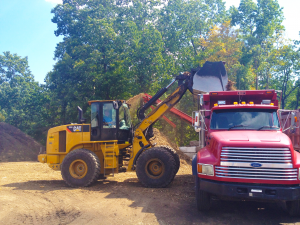 If you still have any questions, we invite you to come and Visit Our Facility. That way you can witness first hand, the extra effort that we put into our manufacturing process to bring you nothing but the Highest Quality Product. We use only the finest dyes and organic wood materials obtained from respected local tree surgeons, reputable landscapers, and land clearings.
We go the extra mile to make sure you get nothing but the highest quality product available on the market.
We can't stress enough, that unlike our competitors, We Absolutely DO NOT use Wooden Pallets!
First and foremost, mulch made from wooden pallets does not break down as it should and nourish your beds, the dyes do not take to the wood properly leaving you with a washed out faded color. Wooden pallets may also contain unsafe chemicals that could damage your trees, shrubs, and plants.
We are more than capable of delivering our landscaping mulch in quantities of 1 yard, to 65 yards at a time. Here at Mulch Works, we truly believe that no job is too big, and no job is too small.
So if you live in the beautiful city of Glen Mills PA, don't put off that project any longer…
Give us a Toll Free Call Today at 1-888-214-4628 for your Free Estimate.
Our courteous and always professional staff are always here to accommodate you.
*Please also visit our FAQ's page. We answer commonly asked questions about mulch.